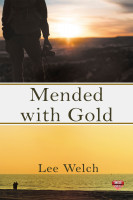 A photographer with post-traumatic stress disorder falls for a comics artist on a wild New Zealand beach, but can he find true love when he feels so wounded by life?

Everything changed when the bomb exploded. Forty-five- year old, Alex Cox worked as an international photographer until a deadly explosion left him with post-traumatic stress disorder. Emotionally wounded, and desperate for a sense of safety, he's run all the way to wild and remote Kahawai Bay, New Zealand.

Under the worst possible circumstances, Alex meets Joe, a shy young comics artist. Joe lets Alex into his playful, gentle world of comics, and soon Alex is falling for him, hard. Alex longs for more. Joe is reticent. But is it shyness? Or does Joe not want a much older lover with "issues"? Or is something else keeping them apart?

This is a tender and uplifting story about creativity, adversity, true love, and comics
.
I found this to be a pleasant read overall. The writing is lovely and the author manages to create a tangible, yet realistic, world where the two main characters dwell and deal with the every day struggles of life. So often we were inside the characters' heads, so I often found myself wishing that I could have seen more interaction between the main characters to fully understand the depth of their feelings for one another.
Mended with Gold
is a beautifully written short story about two men finding their second chance at happiness.
I received a copy of this book from the author and voluntarily provided my honest review.

~ M